Two starters miss Bengals practice again; DT waived to make room for Jones; Texans update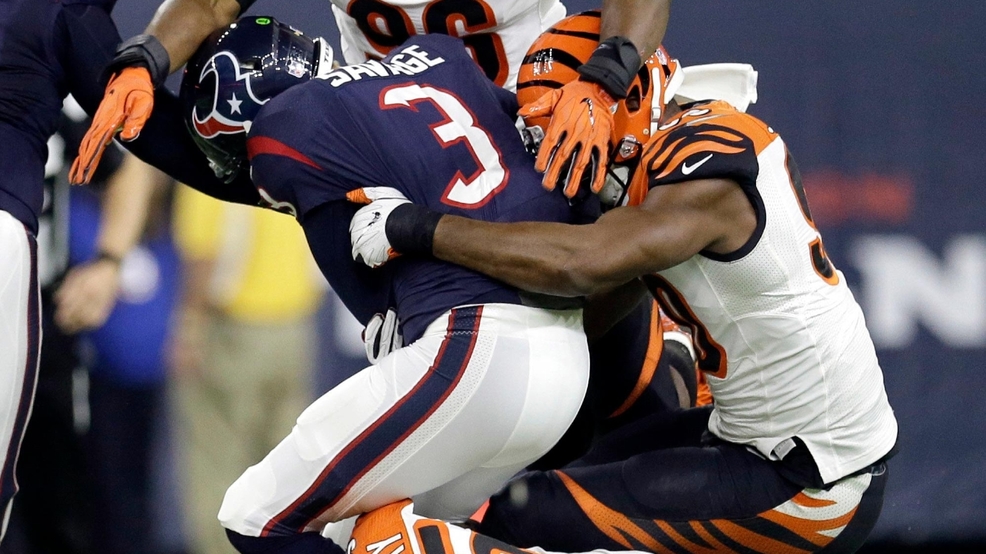 CINCINNATI (WKRC) - Starting right guard Trey Hopkins and starting defensive end Michael Johnson each missed practice on Tuesday marking the second straight practice each missed since Sunday's game against the Baltimore Ravens and leaving them highly unlikely to play on Thursday against the Houston Texans.
Hopkins suffered a knee injury that is likely to leave him shelved for quite some time and Johnson suffered a concussion.
Cornerback Dre Kirkpatrick was a full participant in Tuesday's practice, which was a walk-through for the second straight day, after no participating on Monday due to foot injury.
Cornerback/safety Josh Shaw was also a full participant after being limited on Monday.
Three players who did not play in Sunday's game against Baltimore due to injuries - wide receiver John Ross, safety Shawn Williams and tight C.J. Uzomah - were all full participants on Tuesday after also being full participants on Monday.
It's not very likely any of the three play though as none of them has had a chance to test themselves in a regular practice yet.
Ross suffered a sprained knee in the preseason finale at Indianapolis. Williams suffered a dislocated elbow in the second preseason game against the Kansas City Chiefs on Aug. 19. Uzomah suffered a sprained ankle in practice on Aug. 7. The first time Williams and Uzomah practiced since their injuries was on Monday.
The official injury status for the game will be released on Wednesday.
DEFENSIVE TACKLE WAIVED TO MAKE ROOM FOR JONES: The Bengals on Tuesday waived defensive tackle Christian Ringo to make room for cornerback Adam Jones on the 53-man roster.
Ringo, a second-year player, was acquired on waivers from the Green Bay Packers on Sept. 6. He was inactive for the opener against Baltimore.
Jones returned to team activities on Monday on a one-day roster exemption after serving an NFL suspension for the opener.
He will be eligible to play in Thursday's game vs. Houston.
Click here for more on Jones return.
TEXANS INJURY REPORT: The Texans had seven players not participate in practice on Tuesday after having nine not participate on Monday, but they also placed tight end C.J. Fiedorowicz on injured reserve after he didn't practice on Monday.
Fiedorowicz is one of three tight ends on the roster to be in concussion protocol and the other two - Stephen Anderson and Ryan Griffin - were among the players who did not practice on Tuesday.

Among others not practicing were: guard Jeff Allen (ankle); linebacker Brian Cushing (concussion); running back Alfred Blue (ankle) and wide receiver Will Fuller (shoulder).
Defensive end/outside linebacker Jadeveon Clowney (foot) and quarterback Deshaun Watson (ankle) were full participants in Tuesday's practice. Both were limited participants on Monday.
Click here for the Texans depth chart and click here for the full injury report for the Texans.
TEXANS REPORTEDLY NAME WATSON STARTING QB: Per James Palmer and Ian Rapoport of NFL Network the Texans are going to start Watson, a rookie at quarterback agains the Bengals.
Watson replaced starter Tom Savage in Sunday's opening 29-7 loss to the Jacksonville Jaguars and was just 12 of 23 for 102 yards, a touchdown and and interception and was sacked four times. His passer rating was 60.4
Unmute